USD came very close to my target of 93.50 this week and now I think its time to go down. Short term, at least. EU is still within the planned range and found a strong support at 1750 today, shortly after strong NFP data. Volume wasn't big today, since its Easter holiday, so its not easy to make conclusions based on today and monday will be most likely a slow day, too, but the price action gave me some idea what to expect next week, anyway. Retail now only sees EU shorts, all "analysts" tell people to short and even banks tell people to short EU…what could go wrong, right? I see something else…a bullish pattern building between 1700-1750 and the nearest problem is the 1785-1800 area, which was a strong resistance all week long. But if we take 1800 out next week, I expect EU to go well above that level. My first target would be 1870-90 and final target around 1940-90. I wouldn't start shorting, if we reached the final target, though…first I would want to see if we break the strong resistance at 1990, which was created during a FED and ECB event some time ago. If this level is broken, next would be 2050-2100, where I would start looking for shorts again. All these targets seem too far away now, so lets take it little by little…1800 is an important level to break first. Below you can see the prediction from 2 weeks ago, its still valid for next week.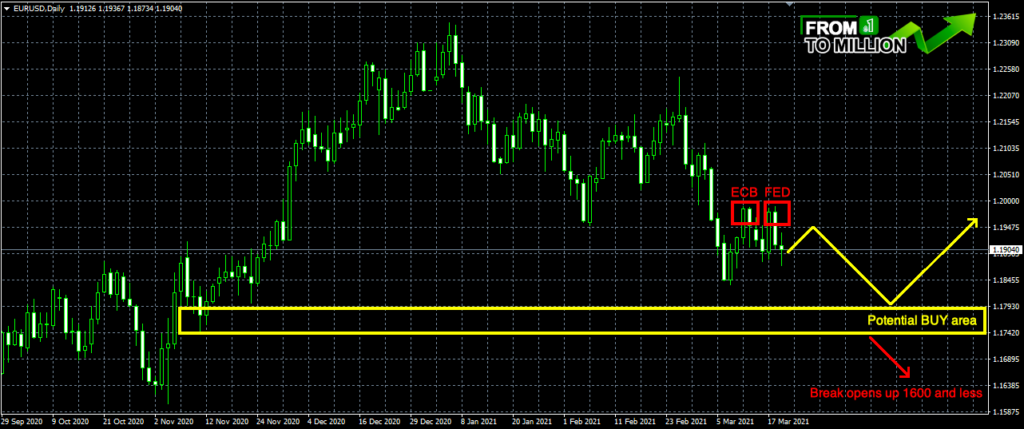 The other pair to watch is UJ, it is now overstreched beyond all logic and close to a big reversal area. I thought we will retrace towards 107, before breaking 110, but here we are at 110.70 and very close to areas, which "produced" big drops last time they were hit. The first one above 112 ended up with a fast UJ dump of 1100 pips and the second above 111 ended up with a 900 pip drop! Now we are above 110…so buying would be very risky…there is only one trade on UJ now and its a short…the only question is not IF, but only WHEN and HOW MUCH it drops. I think 107 is still a good target and 105 as a very likely target to be hit, too.
In march, Biden's administration signed bills to spend almost 4 trillion dollars, first 1.9 trillion mid march and now the so called 2 trillion infrastructure plan, even though don't know what infrastructure will be build with the money. But what we do know is that the FED will have to print another 4 trillion, inflation will go up and dollar will most likely keep dropping for a while. I would still buy USD, if the index goes back towards 89-90, but not much before that. So the EU long and UJ short are both technical and fundamental trades at this point.