Last week analysis for EURUSD is still valid, 1370 was hit for a nice short and this coming week, the bearish move should resume. I will explain why I am even more bearish on the pair now. There is strong bottoming on the USDx chart, easily for a 300-400 pip upmove, but it might be more, if dollar starts the upmove. SL is visible on the chart, for EURUSD its above 1420 or better 1450.
Like I mentioned earlier during the week on Twitter, asset managers are strongly bullish on EURUSD and those guys are more often wrong than right, or at least buy and sell at the worst possible times, kind of like small retailers. They can wait out their positions, even if wrong, with the amount of capital they have, but can you?
Banks are starting to buy the dollar heavily…actually the most since 2014 and banks are the ones to follow, they are the "smart money" on the market. Below on the charts, you can see how the dealers are positioned. I would start buying USDx now, even if it dropped some more, we are at a good spot to start building medium term positions. My first target would be 100 for USDx, which is the equivalent of 950-1000 on the EURUSD chart.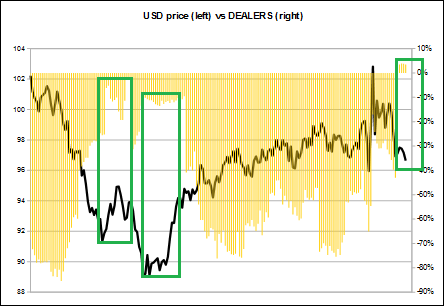 This is just my opinion and trading plan, I might be wrong, of course.